SAGE 300 ERP
Sage 300 ERP Dubai UAE
Sage 300 ERP Dubai UAE, helps managing your finances, operations and inventory. Sage 300 ERP will also have added functionality of solving the complexity of dealing in different languages and currencies. Vernus IT solution, Dubai will help you improve within your company at a fraction of the cost of a traditional ERP software by implementing Sage 300 ERP.
Prepare your business for growth today
Sage 300 on-premise software can help prepare your business for growth. You'll love how easy it is to manage your accounting, inventory, operations, distribution, and more.
It is time to account for VAT in UAE
Sage 300 ERP support you to implement and manage any complicated VAT requirements. Sage 300 ERP Dubai, UAE is a completely VAT enabled solution for small and medium sized organisations.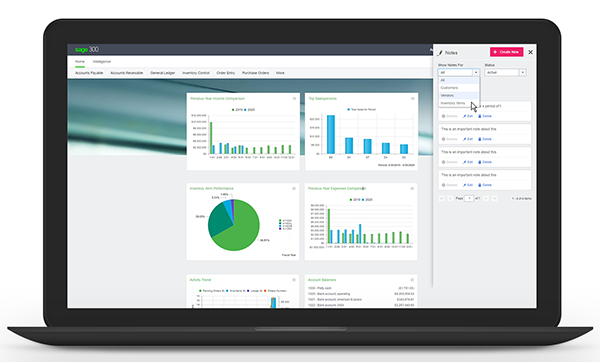 FEATURES OF SAGE 300 ERP
Simplify your company financials – Sage 300 ERP
Sage 300 ERP serves different industries that are looking to improve their efficiency or effectiveness in manufacturing, distribution, or retail business. Sage 300 Dubai is a cost-effective ERP solution, Sage 300 ERP takes the complexity out of managing your business finances across borders, in multiple currencies and locations.
Manage multiple companies and currencies in Sage 300 ERP
Unlike typical ERP software, Sage 300 makes it easy to set up and manage multiple companies, close books, and report results by company or consolidated company.
Eliminate international business complexity
With Sage 300 ERP, you can maintain an unlimited number of currencies and exchange rates, get daily updates, and automate the gains or losses from fluctuations.
Simplify inventory management
With Sage 300 ERP, ship orders on time, from multiple locations. Simplify your inventory—including shipments, returns, and adjustments—with multi-location inventory tracking and control over. Internal issue of inventory to projects or jobs.
Mobile Sales Module of Sage 300 ERP will help you to access your inventory on any mobile device, scan items, invoice to the client on-site and receive payment. Handheld devices can automate your VAN Sales process using the Sage 300 ERP mobile module.
Automate your finances in Sage 300 ERP
Simplify your monthly bank reconciliations. Detect unrecorded transactions, errors and differences, and easily correct to reconcile your books with your bank statements.
Get paid faster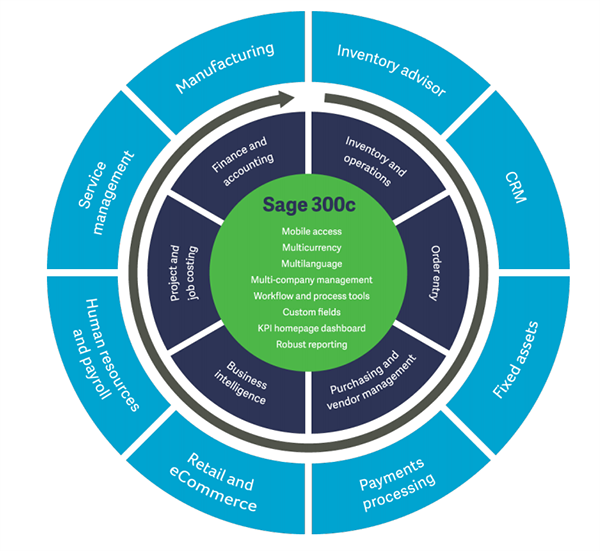 Process credit card transactions quickly and easily. Built-in calculations help you avoid errors, eliminate duplicate entries, and save time.
Manage and track your assets with Sage 300 ERP
Eliminate lost and stolen assets and reduce insurance costs by gaining visibility and control over your entire fixed asset lifecycle. Sage Fixed Assets with Sage 300 helps you track your fixed asset inventory so you can take control of your business. It also calculates monthly depreciation and do the financial entries.
Process and track domestic and international orders
Sage 300 ERP Dubai, UAE make it easy for your customers to place orders and monitor their account status 24 hours a day. Enable your employees to be more productive. Increase the accuracy of your orders.
Strengthen vendor relationships and streamline purchasing
Sage 300 ERP helps you to make the right decisions early by automating and adding visibility to every facet of your purchasing process. Save time by synchronizing process requisitions, purchase orders, receipts, invoices, and returns. Additionally, you can add workflows for authorising Purchase requests, Purchase orders and Purchase Invoices based on custom criteria's.
See how sales and marketing are performing with Sage 300 ERP
Create a single customer view across your organization. Open up new opportunities for growth with greater insight into business performance, better efficiency and productivity, and more effective communications.
Increase the success of your projects using Sage 300 ERP
Keep projects on schedule and on budget with flexible estimating, tracking, and project billing. Manage resources and track costs to the required level of detail for your projects. Sage 300 ERP project and job costing is powerful enough to predict your project success.
Manage your employees with Sage 300 ERP
Maintain your employee records, manage your employee payroll, End of service benefits calculation and WPS for UAE companies.
Download Brochure